2023-24 Hauppauge Public Library Board of Trustees, Nayana Mehta, President; John White, Vice-President; Steve Bard, Finance Officer; Julian Aptowitz, Trustee; and Ralph Plotke, Trustee.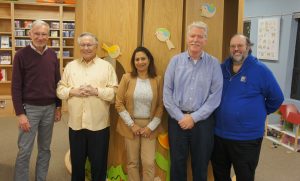 Regular meetings of the Hauppauge Public Library are generally held at 7:00 pm. Changes to this schedule will be posted in the library and on our program calendar under the events tab on the library web site. Please contact the Chief Executive Officer to confirm date and time of all board meetings. Meetings of the board of trustees are open to the public. All are welcome to attend. All meetings will be held at 1373 Veterans Memorial Highway, Suite 1, Hauppauge, NY, 11788.
2023-2024 Meetings of the Hauppauge Public Library Board of Trustees
All open meeting documents are available by request of the Chief Executive Officer. Meetings may involve members participating via videoconferencing due to extraordinary reasons. The resolution to adopt procedures is here. The procedures are here.
November 20
December 18
Wednesday, January 17
February 26 (fourth Monday)
March 25 (fourth Monday)
April 15
May 20
June 17
July 15
Matthew Bollerman,
Chief Executive Officer
Budget
Annual Reports
Policy Manual
Documents