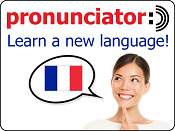 Learn over 80 new languages through Pronunciator's combination of structured and customizable courses, live teacher-led conversation groups, movies and music. Pronunciator even offers a unique feature that allows any language to be learned in any other language. ESL instruction is also available in 55 non-English languages. Pronunciator is kid-friendly, too.
Download the Pronunciator app for your mobile device from the Apple App Store, the Google Play Store and Amazon.
A valid Suffolk County library card is needed to use Pronunciator.
Log into Pronunciator.