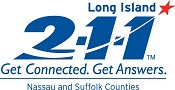 The 2-1-1 Long Island database is a free, online directory of health, human services and education agencies and programs for adults, teens and children in Nassau and Suffolk Counties. It provides detailed information on topics such as health services, child and elderly care, financial and legal counseling, and food assistance.
Access the 2-1-1 Long Island database.
The Buzz is a website for news, events, and information for the Hauppauge community. Brought to you by the Hauppauge Public Library.