We are proud to announce that the Hauppauge Public Library achieved Green Business Partnership (GBP) certification on February 18, 2021. As a certified green business, the Library will model best green practices and work to improve the environment for future generations.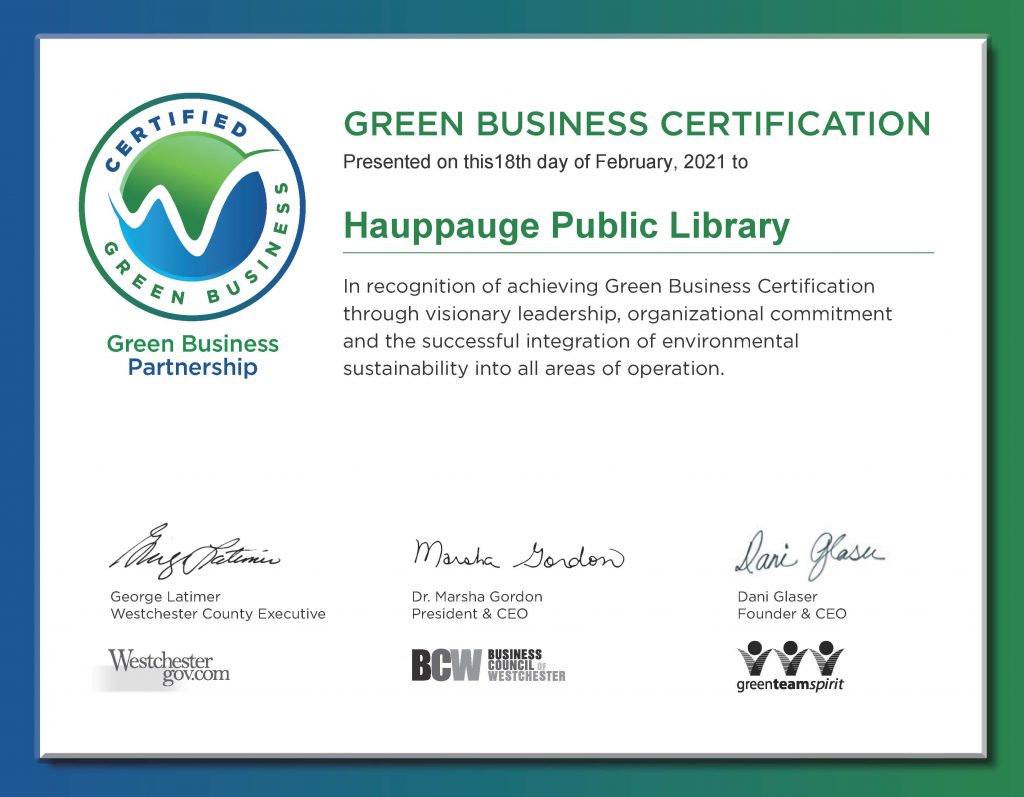 When beginning our journey toward certification in 2018, the Library Board of Trustees adopted an Environmental Policy stating a commitment to reducing our environmental footprint and promoting environmental stewardship.
The Library also formed a Green Team, led by Fran Palumbo, Head of Instruction and Research, to evaluate seven areas of operations related to environmental impact, including energy, waste management, transportation, land use and water. 
Green practices upheld by the Library were compiled into a final presentation submitted to the Green Business Partnership for review.  Among them are the use of LED lighting and Energy Star-rated electronics, recycling of materials donated by the community, use of reusable dishes and flatware by staff and guests, communication via electronic newsletters and signage, virtual programming for guests and meetings for staff, and watering of our perennial garden with rainwater collected in a cistern.
To celebrate this achievement, the Library will be giving away saplings to the community in honor of Earth Day and hosting a paper recycling event.
GBP certification also brings the Library one step closer to fulfilling the New York State Library Association's Sustainable Libraries Initiative.  We will continue to update you on our progress toward this exciting goal.