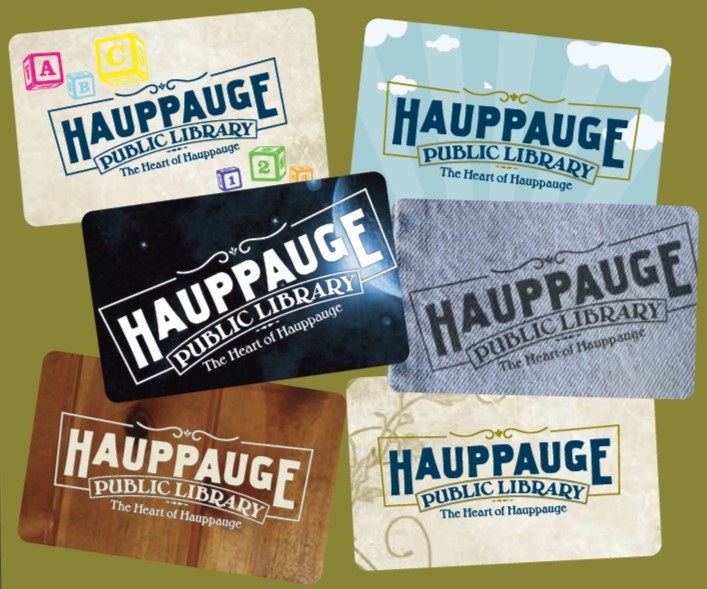 Getting your Library Card
Your Hauppauge Public Library card is a key that will open up a world of entertainment, education and information. You can borrow pre-loaded eReaders, DVDs for kids and adults, music cds, books, magazines and more. Your Hauppauge Public Library card will allow you to download–free of charge–eBooks, audiobooks and videos from our digital branch, Live-brary.com to many portable devices including tablets, eReaders and iPads. Your card also provides open access to our computers, online resources and many exciting programs for all ages.
All residents of the Islip portion of the Hauppauge School District are eligible to receive a Hauppauge Public Library Card.
To apply for a card you must bring proof of residency to our location, 1373 Veterans Memorial Highway, Hauppauge, NY, and fill out a Registration Form at our Guest Services Desk or begin that process here. A guest must be present at the Library to apply for a card, except in cases where the guest will be registering for homebound library service. A single valid photo identification listing local residency is sufficient to prove residency. These can include a drivers license, state issued identification card or passport. If the local street address is not listed on the document a second item listing local residency must also be provided. Those can include a current utility bill (which lists the street address) or a current lease. Other items may be accepted at the Chief Executive Officer's discretion.
A guest who wishes to register for homebound library service may call 631-979-1600 for information.